bcexplorer.com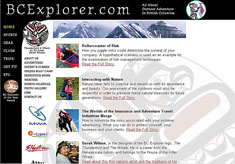 On the left is a list of clients/projects with a wide variety of site complexity. Farsite's contribution? From complete site design/creation and domain set-up to code reworks, site makeovers, demo sites and tweaking.



Click on the links for further explanations and visuals.



Inside the portfolio, you'll find links to the work as it exists on the Web.

BC Explorer

Jan 2001 - This project did not fly. The link on your left gives you a peek at the demo site.

A lovely-to-look-at prototype for an adventure magazine that will highlight adventure travel and outdoor sports in British Columbia. The project is currently on hold, but check out the beautiful First Nations artwork in this frames showcase site that is still waiting on the server.

Farsite's contribution?

easy site navigation takes the surfer to articles, advertiser info and all the client's other ventures
clean platform design allows the client to publish info about his marketing company
site design and implementation all done by Farsite
lots of creative writing by Farsite, too!