thecopstore.com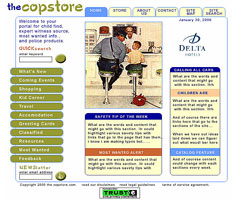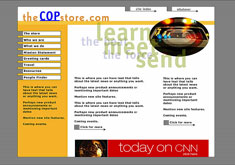 On the left is a list of clients/projects with a wide variety of site complexity. Farsite's contribution? From complete site design/creation and domain set-up to code reworks, site makeovers, demo sites and tweaking.



Click on the links for further explanations and visuals.



Inside the portfolio, you'll find links to the work as it exists on the Web.
The Cop Store
Still in the development phase, Farsite built 3 concepts for this client, meeting a request for a fast-loading friendly, inviting site with tons of functionality and features.
Farsite's contribution?
concept and design. See two concepts at left
the site needed a logo—so Farsite designed two possibilities (see left)
room for advertisements is a great site feature
designed for easy content expansion