the newz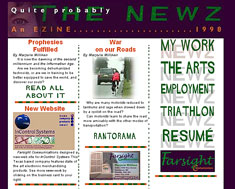 On the left is a list of clients/projects with a wide variety of site complexity. Farsite's contribution? From complete site design/creation and domain set-up to code reworks, site makeovers, demo sites and tweaking.



Click on the links for further explanations and visuals.



Inside the portfolio, you'll find links to the work as it exists on the Web.
THE NEWZ - an ezine
My first site project in multimedia school, I put this magazine format site together on my Christmas break in 1998 and uploaded it to GeoCities.
What's here?
read an article I wrote on road rage
or a new millennium piece
see my first business cards
check out Flash animations
the site also has my page on triathlon related things – like my game and my animated gif "Real Triathletes Don't Draft" which has been downloaded by triclubs all over the world
this page has been visited almost 2000 times